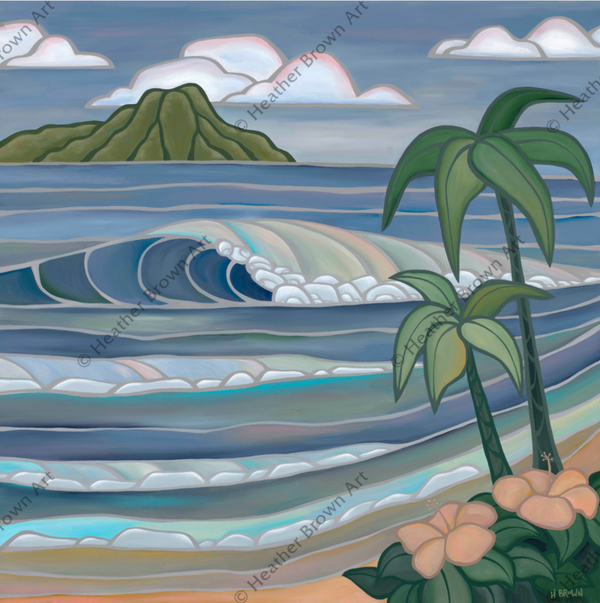 What's New!! "Twilight Paradise" by Heather Brown
Twilight Paradise
Limited Edition Canvas Giclee
Series Size: 250
Every Work of Art is finely crafted using premium acid-free and in most cases, archival materials with museum quality craftsmanship.  Each print is hand-signed, titled, numbered & comes with it's own certificate of authenticity.
Each Limited Edition Giclee Canvas is created using images generated from high resolution digital scans of Heather's original artwork, printed using archival inks with the giclee printing process on a heavy-weight artist canvas and hand-coated with a UV protective clear finish. 
The Giclée Printing Process uses incredibly accurate computer-controlled jets to apply ink at approximately 95 miles an hour to whatever medium you happen to be printing on whether it be paper, canvas, foil, etc. These unique jets are also able to vary the width of the ink stream to as small as 1/100th of a human hair. It is this capability that gives them its beauty. Giclée's have a higher apparent resolution than lithographs and the dynamic color range is greater than serigraphy. As of technology today, provides better accuracy than other means of reproduction & is currently the closest you can get to an original.
Each Piece is Gallery Wrapped around Heavy Duty Stretcher Bars 1 3/4" in depth. Ready to Hang or Already Mounted for Optional Framing.
Archival Custom Framing options are also available for this piece. Please inquire to work with one of our design specialists to find the perfect frame for your space. We will be happy to work with you personally & create for a custom quote based on your design needs. A beautiful Koa frame, the unique wood that is the most beloved & venerated native wood to the islands of Hawaii could be the perfect finishing touch to your piece of fine art.
*Please allow for a possible production time of up to a 4-6 weeks, before packing & shipment.