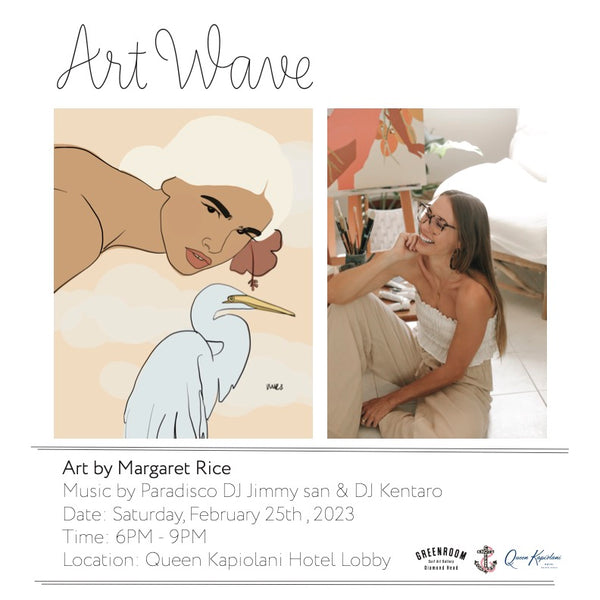 Art Wave by Margaret Rice on Sat, Feb 25th!
Aloha!
Greenroom Gallery Diamond Head presentation will showcase Art Wave art exhibition by Margaret Rice. Margaret will be showing new works of art as well as open edition prints. She will be in attendance and will be available to talk story and sign artwork. The show will begin at 6pm and last through the evening until 9pm. This will be a very unique showing and is sure to be a lot of fun. It is free to attend!
Art Wave
Art Show by Margaret Rice
DJ by Paradisco DJ Jimmy san & DJ Kentaro
Date: February 25th, 2023
Time: 6PM - 9PM
Location: Greenroom Gallery & Knots Coffee Roasters
Check in at 6:00 p.m. and the first 100 people will receive a free drink ticket (Beer or Wine). 
日本語
ART WAVE - Art Exhibition開催決定!
主催:Greenroom Gallery Diamond Head
アート:Margaret Rice
人気の女性ローカルアーティストMargaret Riceを招いてのアートイベント!
開催日:2月25日 土曜日
場所:Queen Kapiolani Hotel1階 ロビーアリア Knots Coffee Roasters
時間:6PM - 9PM
​
With a minor obsession to creativity, Margaret Rice, is the artist moved by the natural beauty, enchantment and culture of her island home. Although she never went to formal art school Margaret has been embracing art her entire life as it is an important passion in her life.  Born on Oahu, she embraces the lush colors, textures and moods that she has long been surrounded by and translates it into her own language of soft muted hues and comforting tones. Not to mention the way she captures a gorgeous lounging lady. Through her art and illustrations she brings to life her hearts inspiration on paper.